Whatever your project, and unless only metal will do, there is likely to be a tooling board to suit your needs. However, with so many options to choose from, it can be difficult to discern which tooling board will best fit your project. That's why we created this blog, which contains everything you need to know about tooling boards, so you can make the best decision for your needs.
Jump to section:
Tooling board applications
Used to create 3D geometric forms , they have a wide range of uses including:
Styling models

Prototyping

Jigs and fixtures

Vacuum forming

Composite tooling

Foundry tooling

Hammer forming
Designed to be CNC machined and/ or manually hand worked, they typically come in one of two forms: polyurethane or epoxy.
Polyurethane vs Epoxy tooling board
Polyurethane (PU) tooling boards are a mix of resin and filler, and the varying density of the fillers used will determine the application and performance of the board. They are particularly suitable for ambient temperature applications, although some PU tooling boards can be used at higher temperatures (120°C plus) – although cheaper than epoxy tooling boards, they are not as dimensionally stable at these temperatures.
Epoxy tooling boards have a similar appearance to PU boards, but their chemical composition is engineered for thermal stability. With a lower co-efficient of thermal expansion, these boards can maintain consistent dimensional performance at elevated temperatures and, therefore, suit applications such as patterns and moulds for carbon fibre component production. They can be found in low-medium (120c) and high (+200c) temperature grades.
By understanding the fundamental requirements of your project, your supplier will be able to able to advise on the tooling board most appropriate for your needs whilst also maintaining consideration of your budget. Typically, the main points for you to consider are:
Robustness (Density)

Temperature range (Thermal expansion)

Value for money (Price)
Density
Tooling board densities typically range from 50 to 1400 kg/m³, and are available in a wide variety of densities in between. The more the dense the board:
The heavier, and so more robust, it will be;

The finer the detail that can be formed (with less risk of damage);

The more expensive it will be (therefore you want to use the lightest material you can to give you the results you need)
Low density PU boards (80-450 Kg/ m³) are relatively inexpensive and easy to machine, but they're fragile and so easy to damage. They're best suited for visual only applications such as styling models and film set pieces.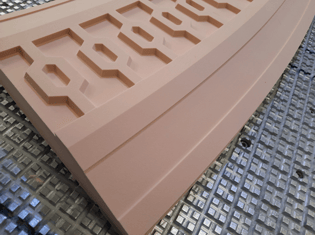 Medium density tooling boards are typically in the 600-800 Kg/ m³ density range. Easily machined, with a fine grain and smooth surface finish, they are highly versatile – PU boards at this density can be used for jigs and fixtures, and prototype/low volume foundry tooling. Epoxy boards, used for layup tools, usually fall in this density range.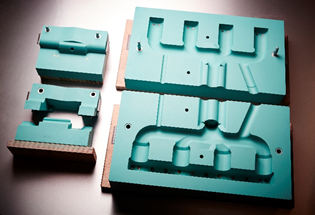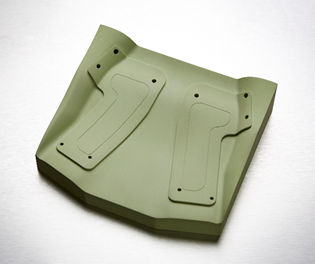 High density tooling boards are typically over 800kg/m³, and are the better choice for hardwearing applications, or (for epoxy boards) where there is a need to maintain fine detail geometry in repetitive thermal-cycling operations. Whilst seemingly costly, these boards are typically less expensive than aluminium, and easier to modify/ repair.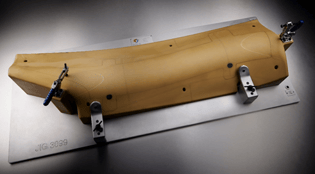 Thermal Expansion
CTE is a standard measure of thermal expansion – the bigger the number, the bigger the amount the tooling board grows by when it's exposed to higher temperatures.
Thermal expansion is a particularly important consideration for elevated temperature applications and is the main reason why composite moulds are made from the same material as the parts to be produced (to minimise the geometrical impact of unwanted growth arising from exposure to heat). PU boards can also 'move' with variations in temperature – an important consideration if your PU board tools are stored at temperatures which differ from those of the environment they're used in.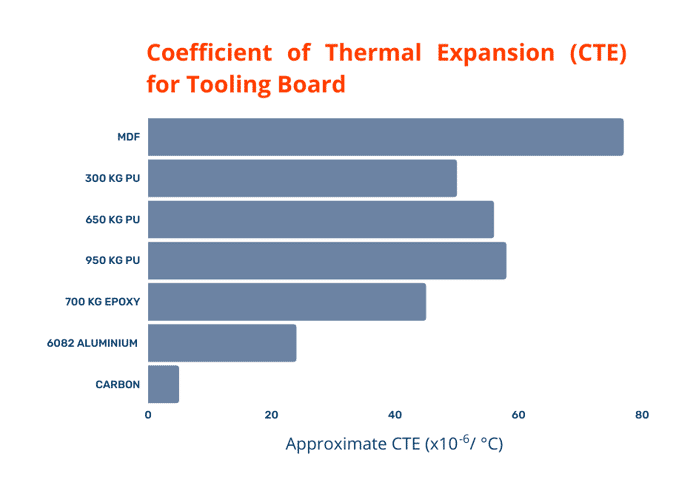 Price
Your budget will be significant factor in your choice of tooling board.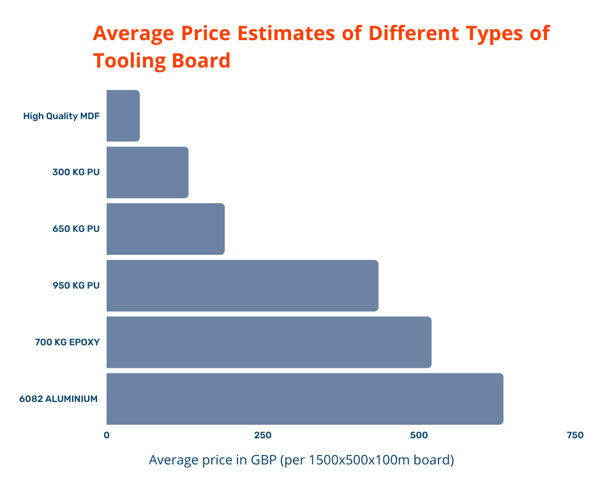 Epoxy board is typically 2.5 times the price of PU board – the cost difference buys greater thermal stability and the ability to use it at elevated temperatures. The expense means that epoxy board is really best suited to lay-up tools for elevated temperature curing prepregs. If elevated temperature use isn't a requirement, then a PU board will usually be the best option for you.
The alternatives to these boards are the metallic options – typically aluminium, or steel. But they are much more expensive – not just to buy, but to machine and finish/ assemble. They will last longer than tooling board, though, so the right choice for you will ultimately depend on what you require from your tool.
Which type of board is best for your project?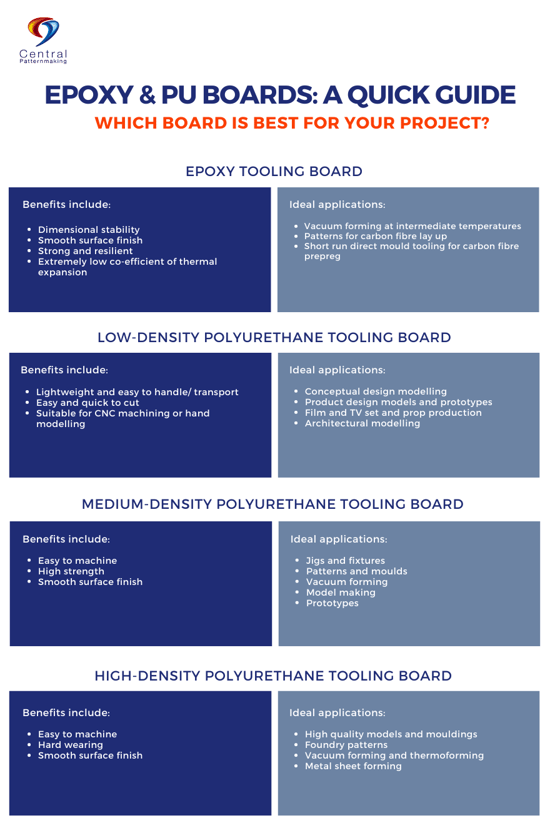 Tooling Board Examples
Low Density Tooling Board

Manufacturer

Board name

Type

Colour

DENSITY (Kg/M

³

)

CTE

£ per plank (1)

Heat distortion temperature (°C)

ebazell 80

PU

Light Beige

80

50

90

50

PU150

PU

Light green

150

80

81

100

ML300

PU

Red

300

50

131

55

M450

PU

Apricot

400

40

199

50
Medium Density Board

OBO652

PU

Mokka

650

56

189

M770

PU

Grey

770

66

304

55

BE978

Epoxy

Blue

680

39

324

141

TB 650

Epoxy

Green

700

45

520

120
High Density Tooling Board

OBO1000

PU

Creme

950

58

435

90

RAKU® TOOL WB-1222

PU

Green

1220

85

587

80-90

M980

PU

Blue

1350

60

536

85

OBO1600

PU

Sand

1600

49

810

94
In the above, a board is assumed to be 1500 x 500 x 100mm. The actual board sizes may vary between manufacturers.
Making the best choice
There are so many tooling boards to choose from – different purposes, different prices, different colours!
By fully understanding your unique requirement, your chosen tooling supplier will be able to help you make the best choice for your particular application.
If you'd like to discuss your next project in more detail, we'd love to hear from you. Let us know you'd like to talk by requesting a call back.
Did you find this article useful? If you did, then why not check out some of our other content? We recently created a free guide about how you can save both time and money when procuring checking fixtures: Buying Checking Fixtures Better.
For more content like this, follow us on LinkedIn by clicking the button below.